Since 2008 Munster has collaborated with our clients to deliver complex, industry recognised projects, and services, driven by a company ethos of quality, value, exceeding client expectations, safety, and compliance, in a wide range of industries.
The Munster approach focuses on six main pillars of success:

"A dedication to safety is at the core of Munster's business, and we aim to be recognised as an industry leader in workplace health, and safety".
Through our accredited ISO 4801 Safety Management System, we continually improve our procedures, processes, and outcomes for our people. The system reflects management's commitment to providing a safe, and healthy workplace for all employees, contractors, customers, and suppliers.
By working with our teams, and drawing on their experience, we identify the best way to deliver for clients, and have our people go home safe, and healthy after a job well done. As part of our continual learning philosophy, we recognise that from time to time, the best plans can still result in an incident or injury, while we seek to minimise this, we believe that every incident is an opportunity to learn, and better manage safety risk into the future.
"Today's outcomes should not come at the cost of tomorrow's future".
Munster's Environmental Management System is ISO 14001 accredited, and, through this system, we seek to minimise the environmental impacts associated with our operations, and the services provided to clients. 
While working to manage day-to-day risks such as spills, chemicals, and site-based sediment control, we are driving sustainable outcomes by showing accountability through our membership of the EcoBiz Program. By partnering with EcoBiz, Munster are working to have independently verified reductions in Energy, Waste, and Water by the Queensland Government, and CCIQ.
Through our maintenance, and upgrade services, Munster assure efficient operation of client assets helping them to achieve their environment, and sustainability goals while delivering essential services to the community.

"At Munster we continuously strive to delight our customers with the outstanding quality of our products, and services. It is easier to do a job right than to explain why you didn't".
Accredited to ISO 9001, Munster's Quality Management System is designed to get it right the first time, on time, every time, to meet or, where possible, exceed customer expectations.
Our dedicated team of qualified professionals undergo continual training, and development to maximise their skill base, reinforce job critical knowledge, adapt to industry advancements, and share collective experience throughout the group.
Munster's systems, and processes are designed such that quality is a natural function of the job, rather than an additional step to be weighed against other priorities.
"We are committed to working with exceptional people to achieve exceptional outcomes".
Munster's people are at the core of our business. We have experienced, and dedicated engineers, project managers, and multi-disciplinary tradespeople who work together to achieve exceptional outcomes. 
Through targeted training, and development of each team member, we harness the strengths of our people, provide professional development opportunities, and maximise organisational capacity. 
"At Munster, we believe that if everyone helps a little, the difference we can make will be a lot".
Munster support, and engage in communities by purchasing locally, and employing locals. Our economic investments provide a direct return to the communities we operate, and provide our teams with an enhanced work/life balance, and social outcomes for families, and the broader community.
As part of our commitment to unlocking the potential of our youth, and people with a need for a helping hand, Munster engage with local schools, training institutions, and organisations such as Head Space, Career Shift, and Access Community Services in providing work experience, employment opportunities, and Trade Apprenticeships to people seeking a new career path. 
While supporting local charities, and lending a hand to communities in need, Munster support international aid through the charity WaterAid. WaterAid enables the world's poorest people to gain access to clean water, sanitation, and good hygiene. Together with WaterAid, we won't stop until clean water, decent toilets, and good hygiene are a normal part of everyday life for everyone, everywhere.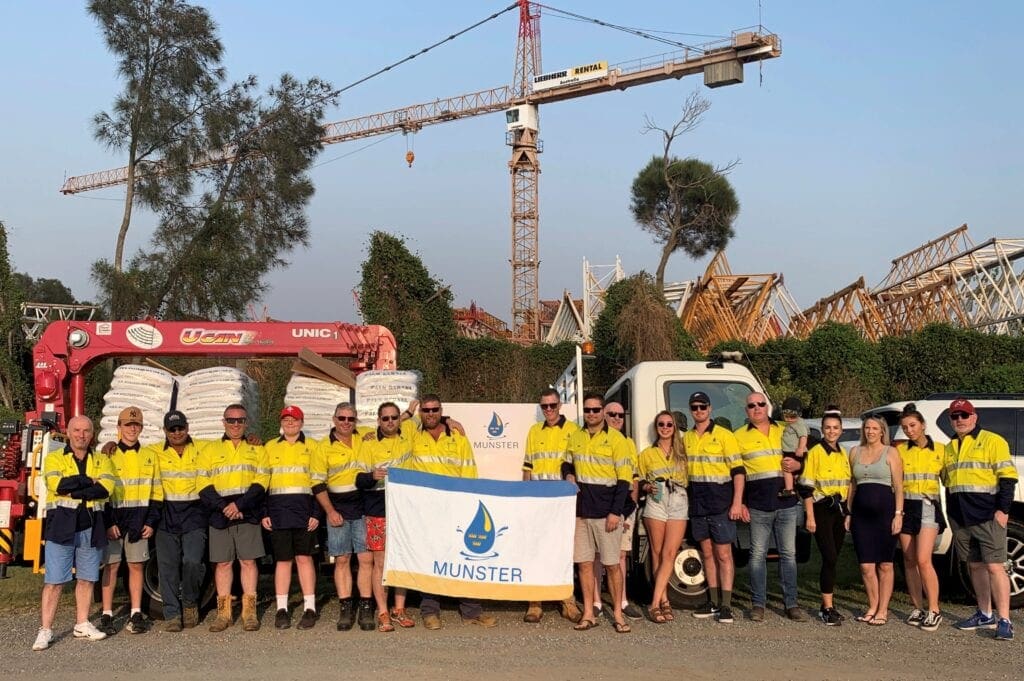 Certifications and Licences
Munster has an Integrated Management System accredited by Compass Assurance Services:
Quality Management Systems – ISO 9001: 2015 
Occupational Health and Safety Management Systems – AS/NZS 4801:2001
Environmental Management Systems – ISO 14001:2015
Our operational licenses include:
Electrical Contractor License – Munster Services Group Pty Ltd – Licence No. 87432
Electrical Contractor License – Munster Services Group QLD Pty Ltd – Licence No. 87433
Electrical Contractor License – Munster Mechanical Pty Ltd – Licence No. 81720
Labour Hire Licence – Queensland Government – License No. LHL-03989-M0Q8W
QBCC Trade Contractor Licence – Plumbing and Drainage – License No. 15050805

Munster's Pre-Qualified Suppliers
Charities, Community and Employment Groups


Community Achievement Awards
Munster were the successful recipient of the Trade Services Award at the most recent Logan Business Distinction Awards.
Munster were a Silver Award Winner in the National "Let's Roll Australian Business Awards" 2020.
Munster have received a Certificate of Appreciation from Career Shift for our support of ex-servicemen, and women through a Host Employer Program. Career Shift is a Comcare Accredited Rehabilitation Provider, tailoring vocational rehabilitation programs for injured Army Defence Force members to return to civilian society.
Munster have received numerous certificates of appreciation from Wateraid for being a major supporter, and contributor to the various WaterAid initiatives, fund raising campaigns, and industry events.